extra options
In addition to the standard elements that you have to choose from when composing a book, such as the paper type or the cover type of the book, there are also a number of extra options that you can add. A colored endpaper, sign tape or headband are not essential, but an option to make your own book even more beautiful and functional! You will find these options in step 7 of our online price calculator.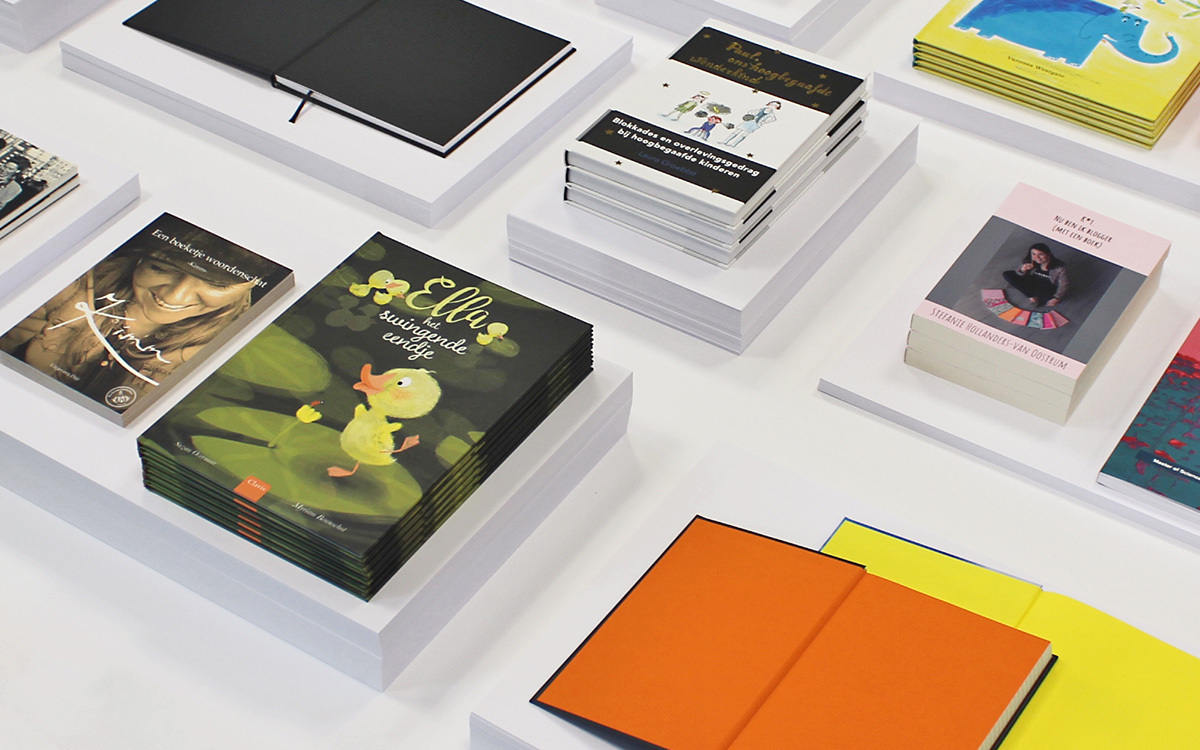 Endpapers
Hardcover books are standard finished with a blank endpaper (also known as endsheet). This is a piece of paper that is glued to the front and back of the cover at the beginning and at the end of the book. Endpapers connect the cover to the inside and provide protection.
In addition to a white version, there is the option to choose a colored endpaper. These are available in the following colors:
Yellow (Limone)
Orange (Arancio)
Blue (Iris)
Dark blue (Dark blue)
Green (Lime)
Red (Lampone)
Gray (Pietra)
Black (Nero)
Ribbon Markers (Ribbon Bookmark)
A ribbon marker is a fine textile ribbon that is used as a kind of bookmark. With this you can easily find a specific page and it also looks nice. This ribbon marker is attached to the head of the book block before it is enclosed in the cover. These ribbon markers are available in the following colors:
Yellow (226)
Orange (348)
Blue (560)
White (100)
Green (618)
Red (463)
Gray (958)
Black (999)
Endband
The endband is a piece of thread/fabric that is decoratively applied to the top and bottom of the book block on the spine. This is used purely decorative as a neat finish for the book.
Adding a endband is possible for books with a minimum spine thickness of 10 mm.
These endbands are available in the following colors:
Yellow (406)
Orange (348)
Blue (537)
White (000)
Green (618)
Red (369)
Gray (369)
Black (999)
Foil printing
Foil printing is a layer of foil in, for example, the color gold or silver that we apply over the printed matter in certain areas. Foil printing gives a luxurious look and highlights certain parts extra well.